It's no secret that our SEO team here at eSterling are gurus with Google (and search engines in general). Whilst we spend most of our time here pushing your websites to the top of Google's rankings, every now and then, we like to have a little fun with the big G too.
Here's a few neat little things you can do with Google that you probably didn't know about:
Do A Barrel Roll!
Open up the Google Homepage, type in "do a barrel roll" (without quotes) and watch as Google does a backflip right in front of your eyes! Cool, huh?
SERP Attacks!
Once again, start with the Google Homepage, tap in "zerg rush", and hide under your desk as an army of Google O's attack the results page, demolishing everything in their path! If you're feeling a bit more heroic, you can use the mouse pointer to ward off the offending letters by shooting at them – Let us know your highest scores in the comments section!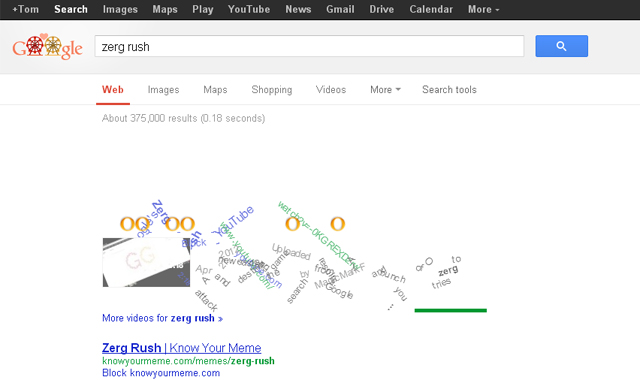 Take Me To Your Reader
It's not just Google itself that contains hidden gems – If you're a Google Reader user, go to the Google Reader homepage and tap in the Konami Code (for those of you less geeky, that's up, up, down, down, left, right, left, right, b, a). Then sit back and watch as your sidebar is overtaken by ninjas!
Getting Google Hexed
If the last trick was a bit too nerdy for you, look away now! Still reading? OK, try this: type "hexadecimal" into Google, and look at the number of results – it's displayed in hexadecimal code! This might not be the most useful method of displaying the number of results, as most of us aren't capable of understanding hexadecimal at a glance, but it's still pretty cool! What's even cooler is that this will work with "binary" too, or "octal" if your geek level really is that high!
Lord Of the Links
Everyone knows about the "swim across the Atlantic Ocean" Google Maps trick, but here's a secret a bit more well guarded:
Start off by opening Google Maps. Then navigate to New Zealand, click "Directions" select walking (the little stickman), type "The Shire" into the first box, and "Mordor" into the second box. When you hit "Get Directions", Google will offer a well-known warning message to assist you on your epic quest!
Google Beatbox
Ok, so the last few have been getting progressively more geeky – it's time for something slightly funkier. Open up Google Translate, switch the language to "English to German", and paste in the following:
pv zk bschk pv zk pv bschk zk pv zk bschk pv zk pv bschk zk bschk pv bschk bschk pv kkkkkkkkkk bschk bschk bschk
Google will perform a little beatbox routine for you!
You're Bacon Me Crazy!
Not had enough of Kevin Bacon from those infuriatingly annoying TV adverts? Try typing in any actor's name followed by "bacon number" into Google Search. Google will tell you how many degrees of separation there is between your specified actor and Kevin Bacon, based on the game "6 Degrees Of Separation"! I don't know how this would ever be useful to anyone, but to be honest I don't think many of these tricks will ever come in handy, and that's not what Fun For Friday is about, right?
This is only the tip of the iceberg as far as Google's plethora of tricks, games and hidden secrets go – we haven't even touched on Google Doodles or their infamous April Fool's pranks! Have we missed your favourite Google trick out? Let us know in the comments!