When making a decision on how to spend your marketing bucks, one decision you'll have to make is whether to invest in PPC (pay-per-click) ads, SEO (search engine optimization).or both. 
In an ideal world, we would suggest the majority of companies invest in both PPC and SEO to ensure you can effectively outperform competition and dominate search engine results pages for your chosen search terms. However, if you have a smaller marketing budget, you may only have to opt for one.
This guide will define SEO and PPC and give you the pros and cons of each and help give you an idea of which you should use as part of your marketing campaigns.
What is SEO? 
 
Search engine optimization (SEO) is the process of optimizing your website and web pages to rank higher in search engines like Google and Bing. Organic rankings refers to the search results of a search engine that cannot be influenced by paid advertising. Organic search results are ranked according to their relevance to the search term.
Pros of SEO
Cost

– SEO is generally a lot more cost effective than other forms of digital marketing -in particular PPC and Google Ads. This means that there are big opportunities for a great ROI in the long term. 

Scalable –

Once you have gained first page rankings for high volume keywords, you can easily build off this success and look at other areas to target. Good performance in SEO can easily be built upon provided you have the right strategy.

Higher Click Through Ratio

– Generally, users will be more likely to click on organic results than paid results. 

Branding

– Aside from more traffic, high search rankings give your business and brand more visibility online. Your site appearing highly can influence your perceived credibility with an audience looking for your service. Many uses trust organic results more than ads and you can quickly build a reputation as a leading provider of a product or service if you rank highly for a number of keywords. 

Sustainability

– Once you have achieved high rankings and have an ongoing SEO strategy in place, your competitors can't simply outbid you to appear higher. They will need to invest a lot of time in developing a strategy to improve their site to be able to remove you from the top.
Cons of SEO
Long Term

– Results from SEO can sometimes take months to generate results – if you only have a short window to see returns from your marketing, SEO may not be the best option. 

May Not Be Viable for All Businesses –

For the majority of businesses, SEO will be an invaluable tool in their marketing arsenal. However, a small number of businesses may not see the same benefit – this could be because their industry is too competitive in search or that their product/services just don't get enough search volume. 
What is PPC?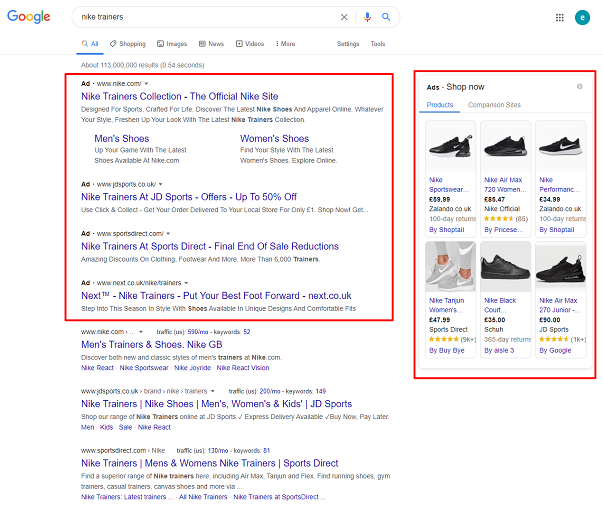 Pay-per-click (PPC) is an advertising model where your ads are displayed with a link to your website and you pay only when a user clicks through to  your site. This is typically associated with search engine advertising like Google Ads or Google Shopping.
Pros of PPC 
Quick Result

s – In comparison to SEO, PPC can generate results much faster. Once you have set up your campaign, you should instantly start seeing traffic to your site. PPC is perfect for businesses that need results in the short term. 

Position on Results Page –

Google Ads now take up a large portion of search result pages, generally in the first four positions. Although users tend to click on organic results more, being able to occupy the top of a results page for your chosen keyword can obviously be a massive boost to both traffic and authority.

More Specific Targeting

– With PPC ads you can filter who you target based on age, location and demographics. You can make sure you are only paying for the traffic that you want on your website. 

Range of Channels Available – Google Shopping Ads, Display Ads and Text Ads are all forms of PPC advertising. Investing in PPC marketing gives you the option of trying these channels and seeing what works for your business.
Cons of PPC 
Can Be Costly –

Depending on your industry, PPC can be expensive.

Extremely competitive industries such as Law services or insurance can have very high costs per click. This is something to consider if your marketing budget is on the lower end. 

Start off more Expensive

– Although PPC can get results immediately, to optimise your account you need a lot of data on clicks and conversions. This means that initially your initial cost per conversion will be higher than it will be once the campaign has progressed and begun to generate data. You will need to be realistic about how long it takes to  optimise a PPC campaign. 
Is SEO or PPC right for my business? 
This will largely depend on your industry and business and you will need to weigh up the above pros and cons and see how they fit in with your business. 
In the simplest terms, SEO can be seen as a lower cost, longer term solution whereas PPC can have higher cost but more impact in the short term. This, along with the other advantages and disadvantages will need to be weighed up against your own business needs.
If you are still unsure about what direction to take your digital marketing campaigns in, eSterling can help.
Our dedicated marketing are experts in both SEO and PPC campaigns and can offer free advice on what is best for your business and guide you to the channels that will get you the best return on your investment.
Contact the eSterling team now and we will be happy to help with any questions you might have.