Facebook is launching Facebook Shops in a bid to gain a stronger foothold in the eCommerce world and compete with the likes of Amazon and eBay.
Shops will allow businesses to set up free storefronts on Facebook and Instagram. Facebook has had shopping features previously, but this update will allow companies to completely transform their Facebook pages into more accessible and attractive storefronts.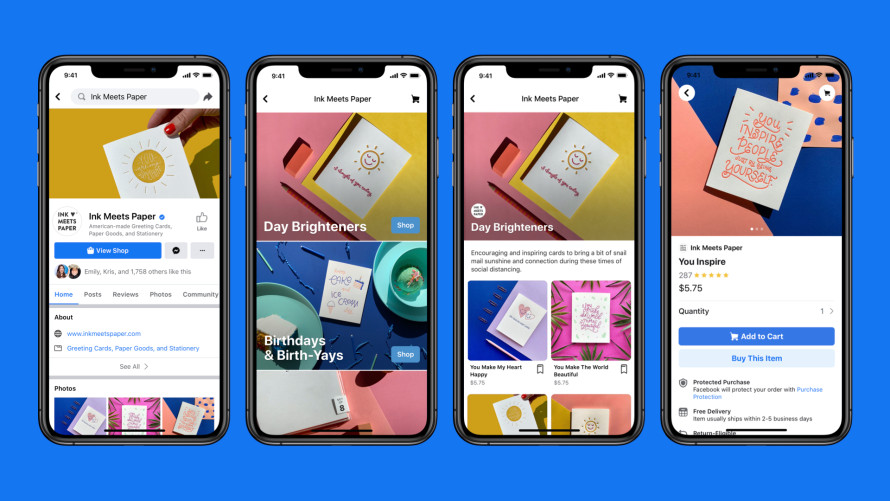 What is Facebook Shops?
In a recent post, Facebook has stated that:
"Facebook Shops make it easy for businesses to set up a single online store for customers to access on both Facebook and Instagram. Creating a Facebook Shop is free and simple."

"Businesses can choose the products they want to feature from their catalogue and then customise the look and feel of their shop with a cover image and accent colours that showcase their brand. This means any seller, no matter their size or budget, can bring their business online and connect with customers wherever and whenever it's convenient for them."
Essentially, Facebook shops will function similar to existing eCommerce platforms but will only be available across Facebook and Instagram applications.
There are also plans to roll out features that allow businesses to handle customer support issues through Messenger, Instagram, and WhatsApp
Is Facebook Shops Free?
Shops are completely free to create – the only potential charge to businesses if a customer uses Facebook's checkout option but this option can be turned off and users can instead be directed to the businesses' own website checkout process.
If a business has a fully functioning eCommerce website then all products can be listed on Facebook Shops for free as then there is no need to use Facebook's internal checkout process.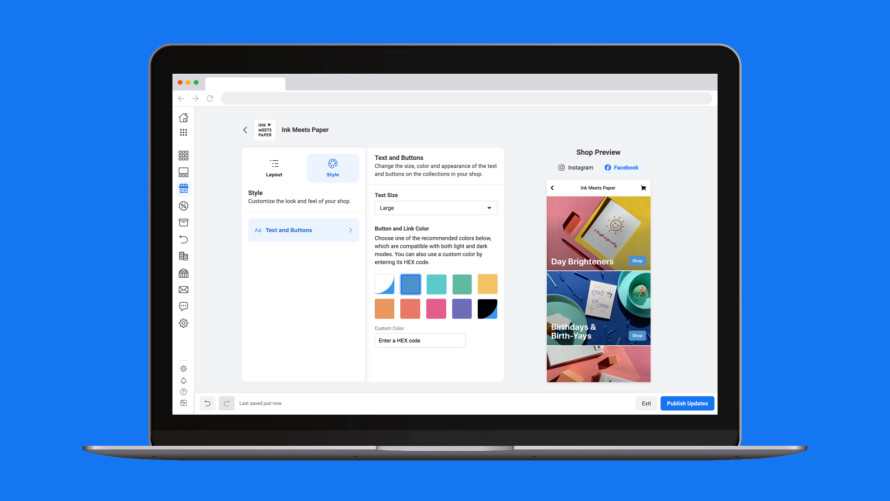 Is Facebook Shops Worth It?
Absolutely! As COVID-19 has forced shoppers away from the high streets, online sales have soared. These new Facebook and Instagram shopping features present another opportunity to get your products in front of consumers who are looking to purchase online.
With 1.73 billion daily active users worldwide, Facebook has a massive reach. Shops allow businesses to tap into this audience directly. With billions of users now able to easily browse products without leaving Facebook, this is a great opportunity to boost sales in a time that may be difficult for a lot of companies. With no cost to Facebook and such a big audience for your products, there is no reason not to try it out.
Even if you don't currently have a huge following on your Facebook, the platform allows you to run paid ads that will put your products and storefront in front of targeted demographics.
When does Facebook Shops Launch in the UK?
Although Facebook Shops has launched in the US, it will be rolled out to the UK and rest of the world in the next few months.
How do I set up a Facebook Shop?
To upload all of your products to a Facebook Shop, you will need to create a product data feed or sync your OpenCart, WooCommerce or Magento website.
The digital marketing team at eSterling are able to guide you through this process and get everything in place ready for you to start selling on Facebook shops.
If you need more information on how we can help you sell on Facebook Shops or any advice on social media marketing, please get in touch now.