7th
April
2020
---
Internet
The COVID-19 pandemic means that almost all businesses have had to change how they operate to cope with the new social distancing measures in place.
Consumers are currently seeking out as much information as possible regarding services and products that have been affected by the lockdown. For all businesses, getting this information online is vital in ensuring your business can continue to operate as smoothly as possible whilst everything remains in flux.
Although your website might be the primary point of contact for all of your customers, there are other channels that are key to ensuring all updates are as visible as possible.
Here's some tips on how you can communicate effectively with your online customers during the coronavirus pandemic.
Website Updates
Your website can often serve as the main point of contact for customers or clients looking for more information. If your business operation has changed significantly due to COVID-19, it's definitely worth getting this on your website as soon as possible. It is also worth updating your site to reassure any users if your business activity is unchanged to let them know that any services or deliveries will be uninterrupted during the period of lockdown.
Notices should also cover any impact to customers, how employees are being protected with social distancing, any services or timescales that will be affected, changes to opening hours, any alterations to how customers can contact your business and anything else may be changed due to the restrictions.
Depending on the amount of information you need to communicate, this could take the form of a short message in the header, a paragraph on the homepage and FAQ section or dedicated landing page for all COVID-19 updates.
If you need to put notifications on your website, but aren't sure how to action this, the eSterling design team can help provide a solution that will best integrate with your existing website design and ensure anyone who lands on your site is up-to-date with any changes to your business. We also offer copy writing services that can help effectively communicate your message to customers.
Email Campaigns
Mailers to current clients and customers is the ideal way to directly communicate with the individuals who will be most affected by any changes to service. A mailing list therefore can be a powerful tool for getting a message out during quarantine.
Recipients are most likely going to be most interested in what measures you are taking to reduce risk and how this will impact any services they have with yourselves.
Producing a short, punchy email with a clear subject line can easily distribute this information to everyone who needs it most. By keeping the copy simple and details down to the essentials, emails can be one of the most effective forms of communication over this uncertain period.
If you don't currently have any mail campaigns set up or need some assistance with your current campaigns, eSterling can help. Our marketing and design teams are able to put together high quality mail campaigns for you, making the process quick and stress free.
Google My Business/Local Listings
For local businesses, Google My Business can often be the first thing users will see in search when looking for your company. Updating this listing is vital in making sure any changes in local business operations are highlighted to customers.
Google themselves have advised on updating store hours and putting as much information about COVID-19 measures via posts and descriptions in their GMB profiles.
Before making any changes, be aware that Google have changed some features and functionality of GMB listings.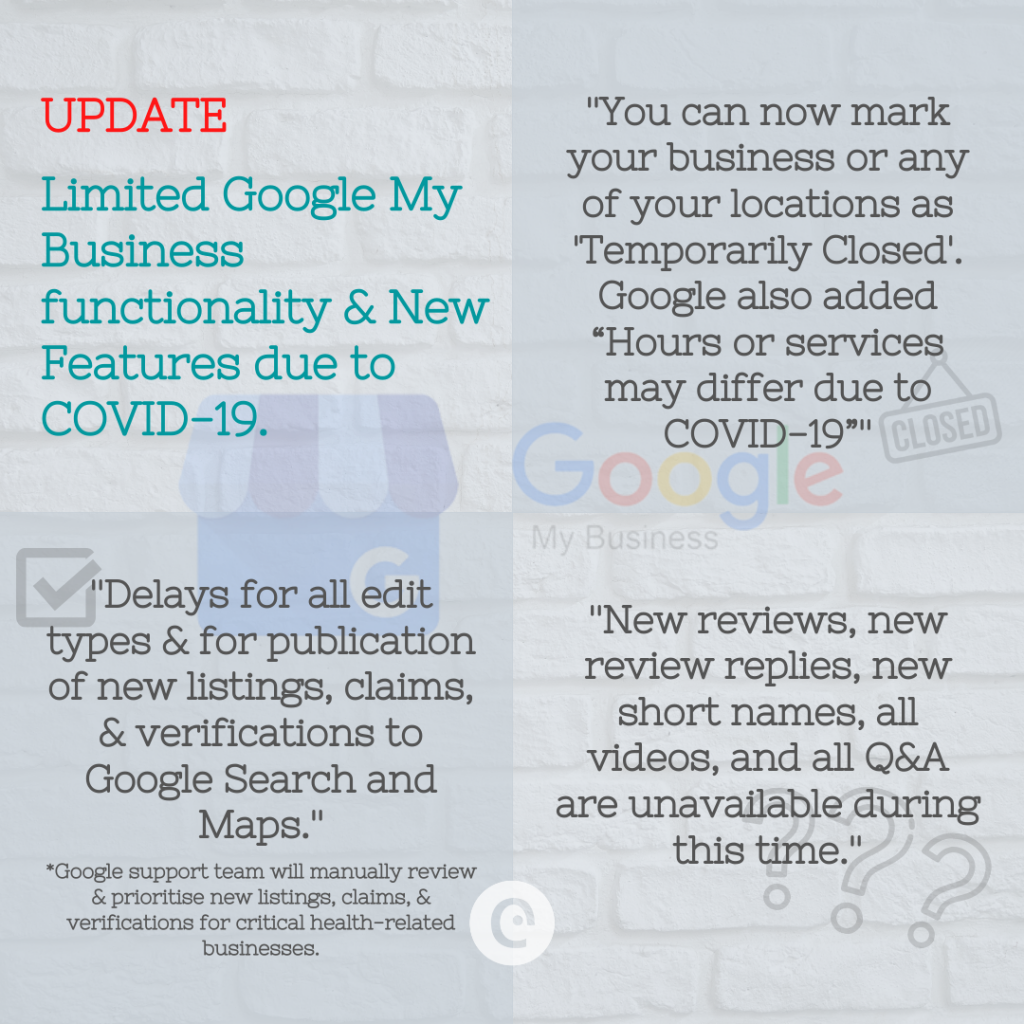 It's also worth updating any key profiles you have such as Bing Places, Yelp, TripAdvisor and any other directories or platforms that offer local business information to users.
If you need assistance updating your Google My Business listing or any other local directory listings, then eSterling will be happy to help.
Social Media
Social media is one of the quickest ways to get information out to the world, as it's the easiest way to provide updates to a wide user base in real time. Facebook and LinkedIn have all put out guides on how to keep customers updated on their platforms. This mainly involves making as many posts as possible, ensuring the most important updates are clearly visible and you are promptly responding to any messages you get during this period.
If you need some assistance with your social media strategy during quarantine, eSterling has a dedicated marketing team who can help find the best solution for you businesses as things continue to change.
Structured data
Structured Data is a useful way to keep customers updated that may be overlooked by a lot of websites.
Structured data is code in a specific format that can be read by search engines to present the information within search results.
For instance, sites can use the itemAvailability structured data to display stock availability directly within search results. Options for this include InStock, OutofStock, Discontinued, has LimitedAvailability, is available InStoreOnly, OnlineOnly and more. This can be extremely useful if your store has moved all of its products to online only availability to reduce contact between employees and the public.
There's a variety of quarantine related info that can be presented in search results through structured data, including event cancellations and creation of now-virtual events. Google have also added a SpecialAnnouncement data option for any COVID-19 related announcements to be displayed next to your website in search results.
For more advice on how you can implement structured data or amend existing data, please get in touch with our team now.