1st
May
2012
---
Fun
Now that Facebook timeline is in full swing after becoming a default setting, some budding designers have started using the new layout to promote their brand in the most creative ways possible. A new trend has emerged for designing customised timeline images that really stand out from the crowd and capture the attention of the person stopping by at your profile.
Timeline has a lot of potential when it comes to promoting your brand, as you can use the large banner at the top to place a large image of a product – or customise a graphic with your contact details or company information.
Take for instance Jessica Barnard's profile below. She has customised her personal profile to promote her brand and uses the banner to showcase her style of work. Very quickly, we learn that Jessica is a 'web designer & self-professed technology addict' with a sense of humour, who leans towards a vintage or retro style. She's even had time to promote her Twitter and Pinterest pages.
A banner like Jessica's can be put together fairly simply using Photoshop or Illustrator. All you need is a little imagination and a clear idea of what your brand is about. Or you can let eSterling do the hard work for you and talk to us about a customised Facebook timeline graphic.
Here's a run down of some of my other favourite Facebook timeline graphics:
1. Robert Falken:
2. Neils Langeveld
3. Tiffany and Co.
4. Spotify
28th
March
2012
---
Social Media / Networking
At the end of this month, Facebook will be changing business pages to the new timeline layout. Timeline has been around for personal accounts for a few months now and you may have noticed that some of your friends have switched to a more graphic, picture based profile. This will eventually become the norm, which is great news, as I personally think timeline looks very attractive.
The main feature of timeline is the eye-catching cover art at the top of the page. You can customise your cover picture, as well as your smaller profile picture in the bottom left hand corner. I find that it usually works best if you use a large picture of the interior of your premises or your products and your logo for your profile picture. A good example is this bakery page: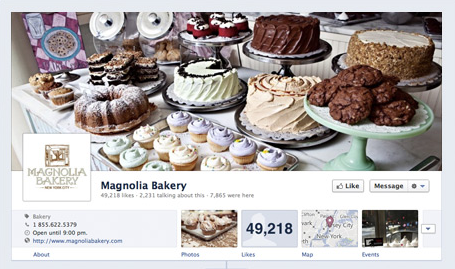 Other new features of timeline include personal messaging, and customisable modules showing your number of likes and photos. A handy element of the new layout is something called 'milestones'. You can set this to show key dates in the history of your company such as when the company was founded. This is ideal if you have been established for a long time, but you're relatively new to Facebook, as you can back-date relevant events.
Status updates have remained similar: you can run competitions through multiple choice questions, post links to your main website and add photos. Users can tag themselves in your photos and this is then shared on their timeline (and therefore visible to all their friends).
With this update, Facebook has made it easier than ever to set up an attractive business page with basic settings for free. Once you get started you have the option to customise your page further by creating your own apps, games and adding e-commerce functionality.
If you need a little extra help getting started, eSterling can provide support with set-up and customised page creation. We also run social media training courses to help you learn how to run your accounts independently so that you can make the most out of your Facebook account.
You can find out more about Facebook pages here: http://www.facebook.com/about/pages