2nd
April
2012
---
Web Development
CodeIgniter is a Model-View-Controller (MVC)-based application development framework. Essentially this means that each element of an application will be split in to three distinct sections – the model, which deals with data structures; the view, which presents everything to the user; and the controller, which serves to tie the models and views together along with processing other required resources such as user input.
The defining concept behind an MVC architecture is to seperate different aspects of the application whist providing a framework to link them together. For example, since these sections will be the focus of the application's front-end, our design team can be working away on the view components independently of the rest of the project. This enables the development team to construct the back-end (e.g. model sections) without worrying about conflicting with design changes or, conversely, without preventing the design team from working by forcing them to navigate database issues.
This approach leads to more streamlined coding both front and back. It is easy to define flexible model functions that can be recycled by numerous views. Likewise, views can be created with just presentation in mind and dynamic content can be introduced cleanly and simply by a controller.  This structure has the added bonus that models and views are only loaded as they are required which helps keep page load times and resource usage to a minimum.
CodeIgniter provides a well-trimmed solution in other areas too. The first bullet-point in CodeIgniter's official feature list, entitled "CodeIgniter is right for you if…," states "You want a framework with a small footprint." And it certainly delivers. The latest version available for download at the time of writing clocks in at just 3.9 MB uncompressed, positively tiny considering the features we are promised as that list continues.  The default installation is also minimal: as simple as copying the files to the web server root.  The software doesn't come bogged down with loads of unnecessary code – in fact, no models are provided whatsoever – just a simple welcome controller and view ensure there exists a default index page.  These are easily removed and we're ready to create our brand new application.
29th
November
2011
---
SEO
Jacques Designer Bathrooms is a long standing eSterling client, having been with us since 2001. Over the past 10 years the web has changed dramatically, but eSterling has ensured that Jacques has been able to move with the times in order to outshine their competitors. The most recent development was put in place last year when Jacques had a new website designed by eSterling.
The new website features a simple layout with the emphasis being on the quality of Jacques Designer Bathrooms' products and services. The overall function of the website is to be a platform for enquiries, as the bathrooms in which Jacques specialises need to be seen in person at their showroom to be fully appreciated.
To launch the new site an advanced SEO service was put in place to target a wider range of keywords. The work carried out by eSterling has produced excellent results for Jacques as many of the keywords, such as 'designer bathrooms', are ranking on page one of Google.
Jacques has also branched out from traditional SEO techniques and have used our press release service to drive traffic to their site. This also gave their rankings a boost, proving that this is a great technique to grow the profile of a business.
Bringing traffic to the Jacques Designer Bathrooms website is important for the development of the company at this stage, as potential customers are sure to want to take advantage of Jacques' prices on designer bathroom suites and installation.
Managing director David Jacques said that the company's pricing structure 'is more competitive than ever' so now is a great time to order a luxury bathroom. David also commented; 'eSterling's ongoing commitment to achieving results for my business has ensured that my site is visible online, even in difficult times for the industry.'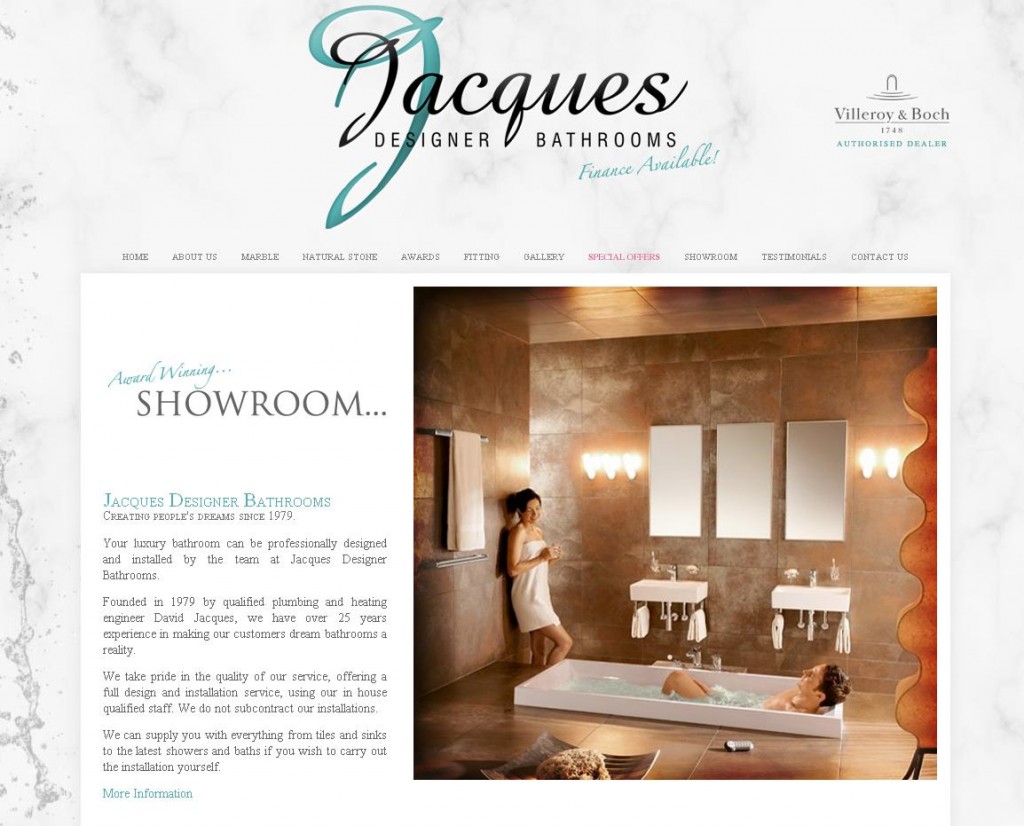 26th
September
2011
---
Web Design
Once you've decided to have a new website, the fun really begins!
The key to success for any website development project is a strong foundation. This comes from having a clear and precise understanding between the client and development team from the very beginning. For this reason, we meet with all of our clients to ensure that everything runs smoothly.
The procedure usually goes something like this:
An initial meeting is arranged with our Directors to discuss requirements. At this stage basic elements of design and functionality of your website are discussed, as well as budget and timescale.
The next step is to meet with the Project Manager and the development team to lay out an exact specification of what you need for your new website to be as effective as possible for your business.
–         This part is where you can tell us your ideas, from aesthetic preferences through to functionality. During this meeting we take note of any other websites that you like (and what you don't like) and also get a feel for what message you are trying to put across to your customer.
–         It is also agreed between both parties as to what exactly is feasible within the constraints of time, budget and scope. An exact price is calculated to suit your budget are we also give you an expectation of what end product you will receive.
We find that these early meetings are important for the success of the project. As Project Manager, I find that I'm able to plan your website build more effectively after discussing your needs in detail.
Every project can be faced with hiccups along the way, but if the project has been built on this strong foundation then the difficulty can be overcome – leaving you happy with your new website.