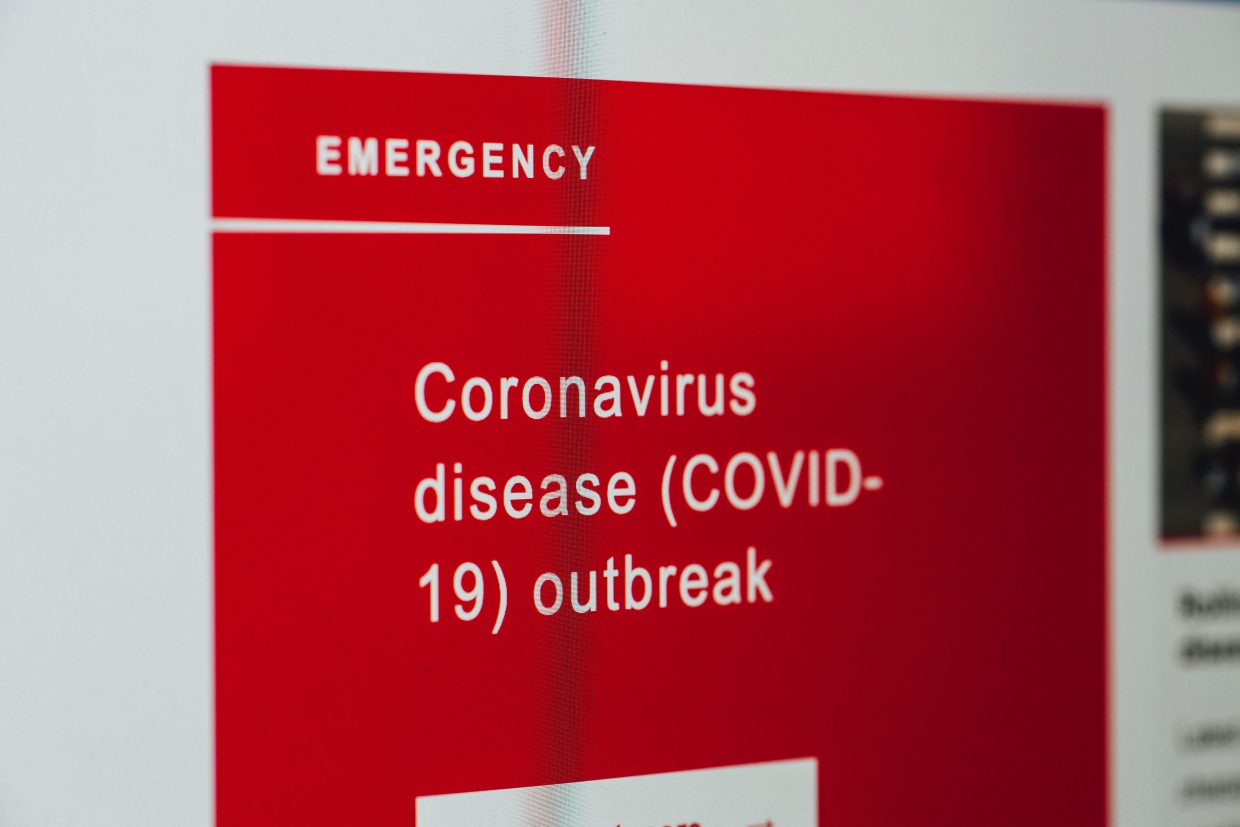 15th
April
2020
---
Adwords
During these unprecedented and difficult times, there are many business owners who are trying to minimise financial risk for their business by pausing advertising efforts or cutting advertising spend.
This could be seen as a short term and temporary fix but eventually, this will lead to needless lost time and effort later on when it comes to rebuilding your marketing strategy from scratch.
So could this be the time to re-evaluate your existing budget and invest more in Digital Marketing? This blog explains why continuing with your marketing efforts is now more crucial than ever.
Grow your online presence & connect with your clients. 
Following the government announcement regarding halting the spread of the virus, people are spending more time online and are using social media to connect with others. So this is the best time to grow your online presence and get more people to engage with your brand.
This could include working on your website to improve rankings and increase your site's visibility when someone is searching for a particular product or service and being more active on social media. Even if your business is currently closed, you can still use social media to stay in contact with your current clients by showing your empathy and support during the outbreak or posting about small steps you have taken as a business to help people in need.
Make sure that information on your website or social media is up to date and keep your clients posted about any changes in regards to your services.
If you are not familiar or confident using social media, eSterling offer a complete Social Media Management service. We can manage your social activity and provide you with reports to track your online performance and engagement.
Understanding the importance of Search Engine Optimisation (SEO).
Search Engine Optimisation (SEO) is a process which includes a number of steps and actions that aim to increase the quantity and quality of traffic to your website via organic Search Engine results. SEO is a long term process and the results are not immediately obvious. So now is the right time to invest in SEO so that your website is fully optimised for when the sanctions are lifted and business returns to normal levels.
eSterling are experts in all things 'SEO' and our SEO services provide regular reviews, up to date reporting and on-going support. We make sure the site is fully optimised and that you are targeting the right keywords as well as resolving all technical issues.
That gives you a big advantage over your competitors as many of them may have not looked at their SEO campaigns.
Time to invest in content.
Content is one of the main ranking factors for all Search Engines and Google has made it clear that a great content strategy can increase traffic and in-turn improve rankings.  During these days people are spending many hours browsing the internet and reading articles. You should focus on updating your website's content and optimising pages for desired keywords for your products or services.
Don't forget to add or update your blog section with interesting and informative content to keep your customers engaged, even if your company is closed or you are not operating usual hours.
Take advantage of our copywriting services and we'll create well-written, original and engaging content based on your brand and target audience.
Start online advertising by creating profitable Pay Per Click (PPC) Campaigns.
People are staying at home and searching for products and services online, so you could take advantage of the increased search volume and invest in PPC advertising. With Google Ads you're in control of the money you spend and are only charged when someone clicks on your ads so most of the clicks will come from customers who are looking for your products or services.
If you have already set up PPC campaigns and your business is still operating then it is worth leaving these campaigns running as your customers may still be looking for your services or products.
Should you have any questions about online advertising and PPC, don't hesitate to get in touch. Here at eSterling we are still fully operational and can help you with online adverting and offer full support throughout this period and beyond.
Focus on your website and improve User Experience.
With daily traffic at an all time high, now could be the right time to think about a new website or a redesign of your old website to improve user experience. You need to make sure that your website is mobile friendly, the page speed is good and navigation is easy with clear structure and defined call to actions on all pages.
If you are not currently selling products, now is a great time to convert your site into an eCommerce site or improve your existing site since most of the transactions are taking place online. With so many people in quarantine and not being able to go to the stores, eCommerce sales are booming!
We have years of experience in designing and building websites and we always endeavour to build sites that exceed your expectations and generate you more business. Give us a call to discuss your project & requirements today!
What's Next?
At some point in the future this pandemic will pass, so you will need to make sure that you've got your business ready to go. Investing in your online strategy now, will reap the rewards further down the line.
We are here to help! We can help you promote your business online and develop an effective and measurable Digital Marketing strategy.
Call us on 0121 766 8087 and tell us what you want your website to do for your business.
7th
April
2020
---
Internet
The COVID-19 pandemic means that almost all businesses have had to change how they operate to cope with the new social distancing measures in place.
Consumers are currently seeking out as much information as possible regarding services and products that have been affected by the lockdown. For all businesses, getting this information online is vital in ensuring your business can continue to operate as smoothly as possible whilst everything remains in flux.
Although your website might be the primary point of contact for all of your customers, there are other channels that are key to ensuring all updates are as visible as possible.
Here's some tips on how you can communicate effectively with your online customers during the coronavirus pandemic.
Website Updates
Your website can often serve as the main point of contact for customers or clients looking for more information. If your business operation has changed significantly due to COVID-19, it's definitely worth getting this on your website as soon as possible. It is also worth updating your site to reassure any users if your business activity is unchanged to let them know that any services or deliveries will be uninterrupted during the period of lockdown.
Notices should also cover any impact to customers, how employees are being protected with social distancing, any services or timescales that will be affected, changes to opening hours, any alterations to how customers can contact your business and anything else may be changed due to the restrictions.
Depending on the amount of information you need to communicate, this could take the form of a short message in the header, a paragraph on the homepage and FAQ section or dedicated landing page for all COVID-19 updates.
If you need to put notifications on your website, but aren't sure how to action this, the eSterling design team can help provide a solution that will best integrate with your existing website design and ensure anyone who lands on your site is up-to-date with any changes to your business. We also offer copy writing services that can help effectively communicate your message to customers.
Email Campaigns
Mailers to current clients and customers is the ideal way to directly communicate with the individuals who will be most affected by any changes to service. A mailing list therefore can be a powerful tool for getting a message out during quarantine.
Recipients are most likely going to be most interested in what measures you are taking to reduce risk and how this will impact any services they have with yourselves.
Producing a short, punchy email with a clear subject line can easily distribute this information to everyone who needs it most. By keeping the copy simple and details down to the essentials, emails can be one of the most effective forms of communication over this uncertain period.
If you don't currently have any mail campaigns set up or need some assistance with your current campaigns, eSterling can help. Our marketing and design teams are able to put together high quality mail campaigns for you, making the process quick and stress free.
Google My Business/Local Listings
For local businesses, Google My Business can often be the first thing users will see in search when looking for your company. Updating this listing is vital in making sure any changes in local business operations are highlighted to customers.
Google themselves have advised on updating store hours and putting as much information about COVID-19 measures via posts and descriptions in their GMB profiles.
Before making any changes, be aware that Google have changed some features and functionality of GMB listings.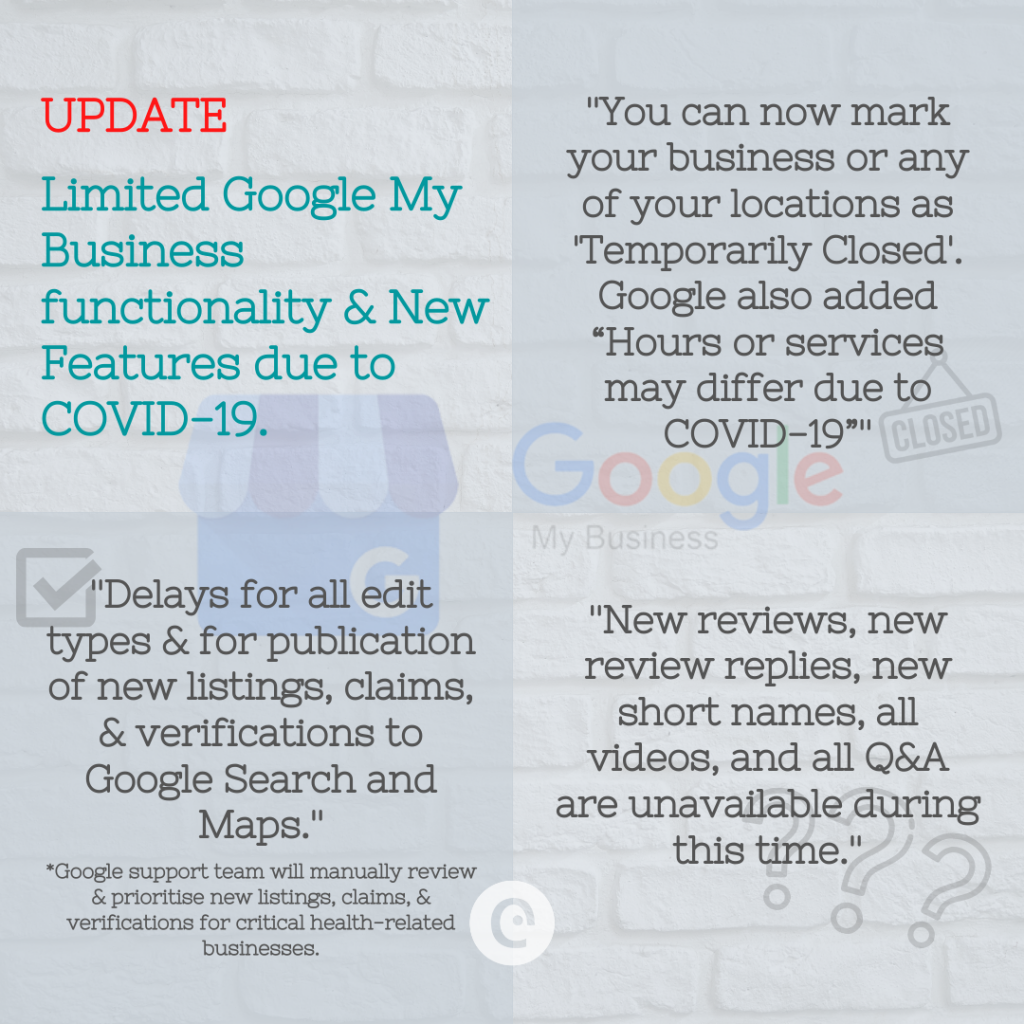 It's also worth updating any key profiles you have such as Bing Places, Yelp, TripAdvisor and any other directories or platforms that offer local business information to users.
If you need assistance updating your Google My Business listing or any other local directory listings, then eSterling will be happy to help.
Social Media
Social media is one of the quickest ways to get information out to the world, as it's the easiest way to provide updates to a wide user base in real time. Facebook and LinkedIn have all put out guides on how to keep customers updated on their platforms. This mainly involves making as many posts as possible, ensuring the most important updates are clearly visible and you are promptly responding to any messages you get during this period.
If you need some assistance with your social media strategy during quarantine, eSterling has a dedicated marketing team who can help find the best solution for you businesses as things continue to change.
Structured data
Structured Data is a useful way to keep customers updated that may be overlooked by a lot of websites.
Structured data is code in a specific format that can be read by search engines to present the information within search results.
For instance, sites can use the itemAvailability structured data to display stock availability directly within search results. Options for this include InStock, OutofStock, Discontinued, has LimitedAvailability, is available InStoreOnly, OnlineOnly and more. This can be extremely useful if your store has moved all of its products to online only availability to reduce contact between employees and the public.
There's a variety of quarantine related info that can be presented in search results through structured data, including event cancellations and creation of now-virtual events. Google have also added a SpecialAnnouncement data option for any COVID-19 related announcements to be displayed next to your website in search results.
For more advice on how you can implement structured data or amend existing data, please get in touch with our team now.